Customer Testimonials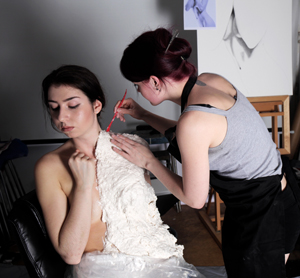 Sarah, Just wanted to say thank you for a-maz-ing picture. Leigh loves it thank you.
— Peter
It's amazing!
— Maria
Love it!! And revealed on my birthday how wonderful
— Jess
Portraits: The Perfect Bespoke Gift
Working from a photograph, Sarah is able to undertake pencil drawing and oil or acrylic painting portrait commissions. The Silhouette series can be commissioned with any model, in any colour or pose.
Life Casting Service
Sarah also provides a life casting service, immortalizing subjects' chosen body parts in a delicate 3D form of sculpture. These are particularly popular for wedding couples, (i.e. hands with rings) pregnancy and children (e.g. baby hands and feet).
Maximize Detail
A high resolution photograph is recommended for drawing and painting commissions in order to maximize detail.
Why not book a photographic studio session (or home visit) with Van Sadler Creative. We offer a Fine Art Package to include both photos for you to keep as well as your commissioned piece. Our studio is situated in the town centre of Chelmsford, Essex.
Commission a Portrait
To commission a portrait piece, please contact Sarah (sarahscotchman@mac.com).
Below are examples of Fine Art commissions alongside their original photographs.